Almost There
CO-DIRECTOR / PRODUCER / EDITOR / CINEMATOGRAPHER
"A fascinating, complex tale of art, madness, redemption, and assorted, almost bewildering acts of human kindness." - William Todd Schultz, author of "An Emergency in Slow Motion" on Diane Arbus
What pops into your mind's eye when you think of growing old? A bingo card? The beige hallways of an old folks home? For many, Peter Anton's house embodies an end-of-life nightmare: the utility companies long ago shut off the heat and electricity, the floorboards are rotting, and the detritus of a chaotic life is precariously stacked to the ceiling. But for the filmmakers, Anton's home is a treasure trove, a startling collection of unseen and fascinating paintings, drawings and notebooks; not to mention Anton himself, a funny and utterly resilient character worthy of his own reality TV show. Determined to form a coherent future out of a fractured past, they set out together to host an exhibition of the old art. Filmed over 8 years, Almost There is an epic coming-of-(old)-age story about what it means to become elderly in America, how this process can be complicated by mental illness, and how the whole bizarre panoply of life can be redeemed by art.
Awards / Nominations
CINEMA EYE HONORS: Spotlight Award Nominee and The Unforgettables List (January 2016)
Erikson Prize: Excellence in Mental Health Media (2016 nomination)
Independent Spirit Awards: "Truer Than Fiction" (2016 short list)
Midwest Film Festival Award Winner: Best Editing (Aaron Wickenden), Chicago IL (December 2015)
Best of the Midwest Nominations: Best Film, Best Director, Best Editing, Best Artistic Visualization (December 2015)
Special Jury Prize for Visionary Storytelling, Indie Memphis Film Festival (November 2015)
Audience Award, EBS Documentary Festival (EIDF), South Korea (August 2015)
Top 6 Audience Rated - Sheffield Doc/Fest (June 2015)
Special Jury Prize for Complex, Hands-on Storytelling, Sarasota Film Festival (April 2015)
Best of the Fest, Sebastopol Documentary Film Festival (March 2015)
Emerging Filmmaker Award, Geneva Film Festival (March 2015)
Best Exploration of Doc Ethics (Columbia Daily Tribune), True/False Film Festival (March 2015)
2015 Top Ten "Best in Nonfiction" Lists
Film Comment (Eric Hynes) - #10
Village Voice (Serena Donadoni) - #5
POV's Documentary Blog (Tom Roston) - #6
RogerEbert.com/Indie Outlook (Matt Fagerholm) - #5
Indiewire (Sam Adams) - #7
Movie City News (Ray Pride) - #9
Movie Pilot (Jamison Rabbit) - #1
NonFics (Christopher Campbell) - #11
What Not to Doc (Basil Tsiokos) - listed alphabetically
Reviews
http://www.almostthereproject.com/press/
Screenings
WORLD PREMIERE - DOC NYC, November 2014
LOS ANGELES PREMIERE - ArcLight Documentary Series: curated by the president of the International Documentary Association, Marjan Safinia who chose the film because "Its absolutely riveting, haunting, and moving. One of those that sticks with you long after the lights are up."
CHICAGO (HOMETOWN!!!) PREMIERE: Stranger Than Fiction: Documentary Premieres Series: TWO SOLD OUT screenings! Curated by Gene Siskel Film Center programmer Barbara Scharres who personally reached out to the filmmakers after hearing buzz about the film. She writes, "This chronicle of a near-decade in the life of East Chicago, Indiana, outsider artist Peter Anton, now 83, boasts as many layers, permutations, and interpretations as the pages of one of his profusely illustrated scrapbook journals."
MONTANA PREMIERE: BIG SKY Documentary Film Festival - Feb 2015
SPECIAL SCREENING: Urban Institute for Contemporary Art (UICA), Grand Rapids, MI - Feb 2015
OFFICIAL SELECTION: Big Muddy Film Festival - Feb 2015
MISSOURI PREMIERE: TRUE/FALSE Film Festival - March 2015
OFFICIAL SELECTION: Geneva Film Festival - March 2013 (EMERGING FILMMAKER AWARD)
OHIO PREMIERE: Cleveland International Film Festival - March 2015
OFFICIAL SELECTION: Sebastopol Film Festival - March 2013 (BEST OF FEST)
SPECIAL SCREENING: Wexner Center for the Arts, Columbus, OH - April 2015
OFFICIAL SELECTION: Midwest Independent Film Festival, Chicago, IL - April 2015
FLORIDA PREMIERE: Sarasota Film Festival - April 2015 (SPECIAL JURY AWARD)
WISCONSIN PREMIERE: Wisconsin Film Festival - April 2015
MINNESOTA PREMIERE: Minneapolis St. Paul International Film Festival - April 2015
OFFICIAL SELECTION: Chicago International Music and Movies Festival (CIMMFest) - April 2015
ARIZONA PREMIERE: Arizona International Film Festival - April 2015
NEW ENGLAND PREMIERE: Nantucket Film Festival - June 2015
INTERNATIONAL PREMIERE: SHEFFIELD DOC/FEST - June 2015 (TOP 6 AUDIENCE RATED)
LONDON PREMIERE: Curzon Bloomsbury / Bertha DocHouse - June 2015
INDIANA PREMIERE: Indy Film Fest - July 2015
OFFICIAL SELECTION: Middlebury New Filmmakers Festival - August 2015
ASIAN PREMIERE: EBS International Documentary Festival (EIDF) - August 2015 (AUDIENCE AWARD WINNER)
MAINE PREMIERE: Camden International Film Festival - September 2015
OFFICIAL SELECTION: Big Eddy Film Festival - September 2015
OFFICIAL SELECTION: Milwaukee Film Festival - September-October 2015
KENTUCKY PREMIERE: IF Film Festival - Louisville - October 2015
TEXAS PREMIERE - Dallas VideoFest - October 2015
NEW MEXICO PREMIERE - Santa Fe Independent Film Festival - October 2015
OFFICIAL SELECTION - Driftless Film Festival - November 2015 (OPENING NIGHT FILM)
OFFICIAL SELECTION - Houston Cinema Arts Festival - November 2015
OFFICIAL SELECTION - Bisbee Film Festival - November 2015
IRELAND PREMIERE - Cork Film Festival - November 2015
TENNESSEE PREMIERE - Indie Memphis Film Festival - November 2015 (SPECIAL JURY PRIZE)
SOUTHERN CIRCUIT TOUR OF INDEPENDENT FILM - (Greensboro, New Orleans, Tallahassee, Miami) - February 2016
PRESS:
"The film is hilarious, heartbreaking and haunting. It's dark, disturbing, thought-provoking, powerful and, at times, simply hard to watch. It's a brilliant piece of work and a must-see." - Jeff Manes, Gary Post Tribune
"4.5 Stars. Almost There blends personal portrait with an exploration of the responsibilities of the director in fascinating, exhilarating ways." - Columbia Tribune
"Our favorite film at True/False: accidental, affectionate, surprising, affirming. See it." — Jeff Truesdell, People Magazine.
"Blown away... A journey of art, heart & surprise." — Jesse Moss, director of The Overnighters.
"Anton's dream of being discovered masks a deeper one—of being forgiven. No sooner does his name appear in the headlines than a profoundly upsetting charge from his past resurfaces, accompanied by phone calls expressing outrage and anger. This is the sort of unexpected turn that could've caused the entire film to implode on itself, or worse, remain unfinished and unseen in the musty shadows of Anton's basement. Instead, this is where "Almost There" blossoms into one of the best documentaries I've ever seen." - Indie Outlook
"A definitively human documentary that mixes the idiosyncratic canvas of "Grey Gardens" with the compassion of "Hoop Dreams." - Nick Allen, HollywoodChicago.com
"Anton fights back at one point — "I'm not a project," he tells Rybicky — he, indeed, becomes more than a film character, but a human being whose life is significantly changed by the documentary that he takes part in." - Anthony Kaufman, Indiewire
"We want so badly for artists to be geniuses whose lives we can only dream of emulating. Almost There paints a different, more down-to-earth picture. Art is rarely made in a vacuum, no matter how remote or isolated the artist's environment is. It is also a searing portrait of postindustrial Indiana as it attempts to resurrect itself after decades of neglect. Just as Anton has to leave the wreckage of his past behind, so the Rust Belt — brilliantly evoked in the film by David Schalliol's environmental cinematography — must find some new way to grow, prosper, and move forward." - Dmitry Samarov, BELT Magazine
"Formally different but also evocatively unresolved is Almost There, a seemingly familiar character study of an aged outsider artist that becomes a thoroughly self-examining, and open-ended rumination on filmmaker-subject complicity, responsibility, and purpose. Even during the early stages of the narrative, filmmakers Dan Rybicky and Aaron Wickenden invite us to think about the nature of their relationship with subject Peter Anton, whom they meet sketching children at a local fair in East Chicago, Indiana, and follow home to his jerry-rigged disaster of a home. "They took pictures of my underwear," Anton narrates via voice-over, effectively critiquing proceedings from a future tense. "People told me to beware. Maybe they were out to take advantage of me. I want my story told, and that's why I put up with it." Such mutual interrogation takes place long before the filmmakers find out about a dark chapter in Anton's damaged life, which forces them to further question the entire endeavor—particularly a gallery show they've set up for Anton in Chicago. He's apologetic about not being truthful to the filmmakers, but doesn't regret what it's done to the film. "I'm not just a project," he says. Yet Rybicky goes one further than exposing the seams of the doc filmmaking process. He interrogates similarities between Anton's family and his own, which pushes the film past self-reflection into self-exposure. It's rare for a film to be both sincerely outwardly and inwardly focused, and pretty much unheard of for one to explore, as Almost There does, how they can be effectively the same thing." - Eric Hynes, Museum of the Moving Image
"Almost There digs deep and goes further than your average artist profile film." - JUXTAPOZ
"One of my favorites [of True/False 2015]... a fascinating study in unintended consequences." — Sam Adams,IndieWIRE
"Beautiful... the heart of Almost There lies in the unmistakable persistence of compassion, seen not only in the directors, but also in the people who choose to help a man who struggles mightily to help himself." — Seth Boster, Vox Magazine.
Huffington Post: "One of the 16 Documentaries To Watch Out For This Year "
IndieWire: One of the five "must-see" films at DOC NYC
Almost There Official Trailer (2014 Documentary HD)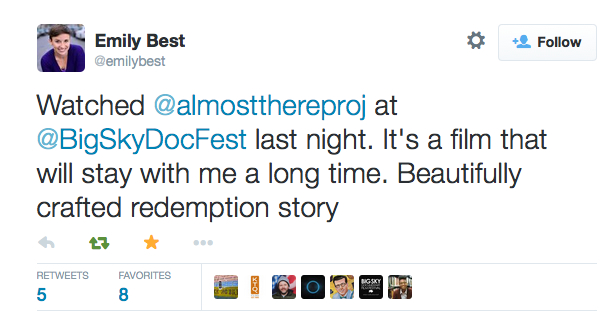 Audience Award at EIDF in South Korea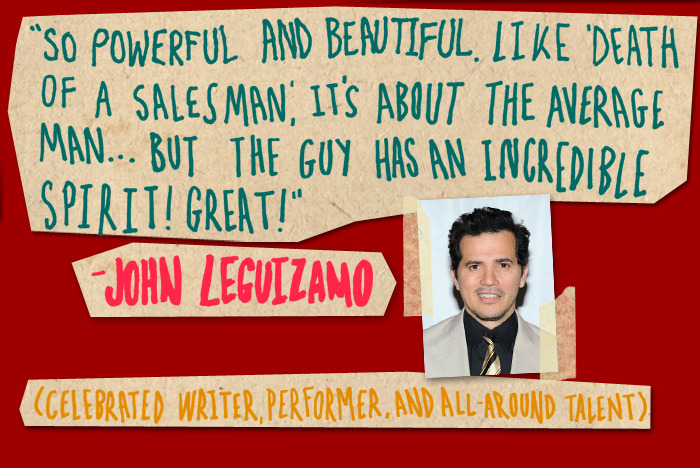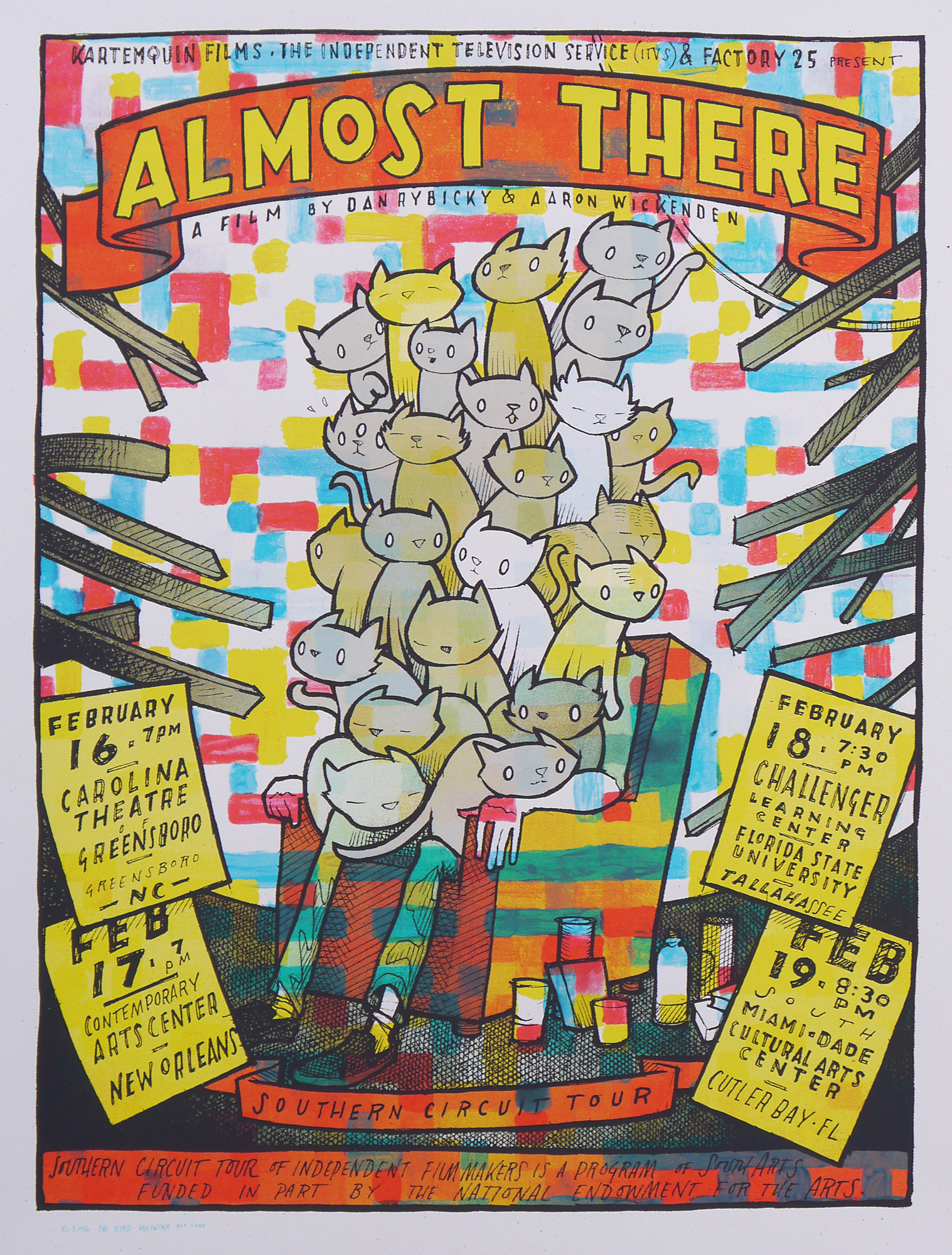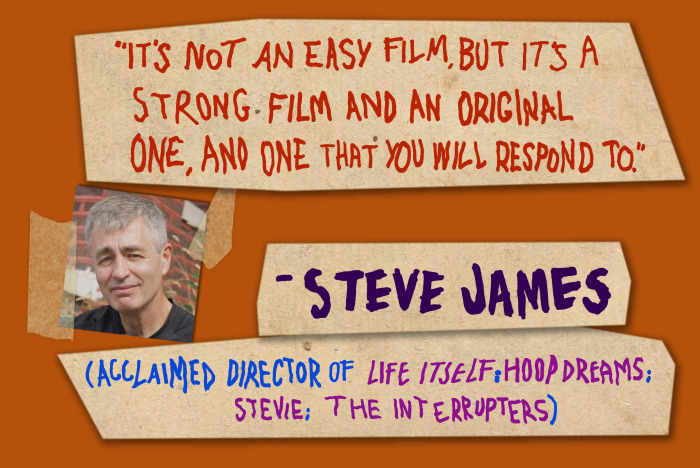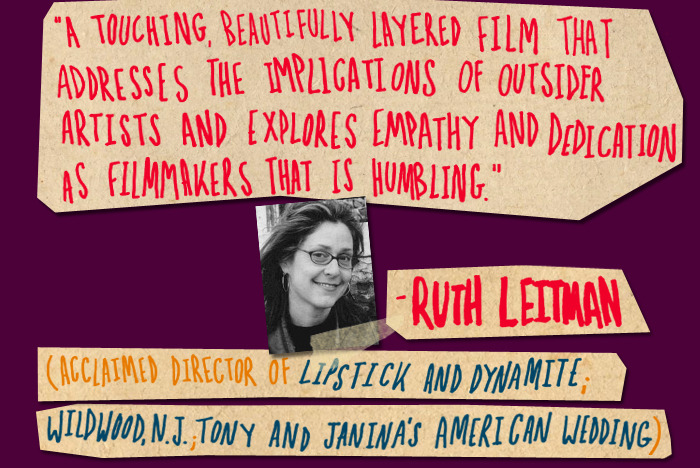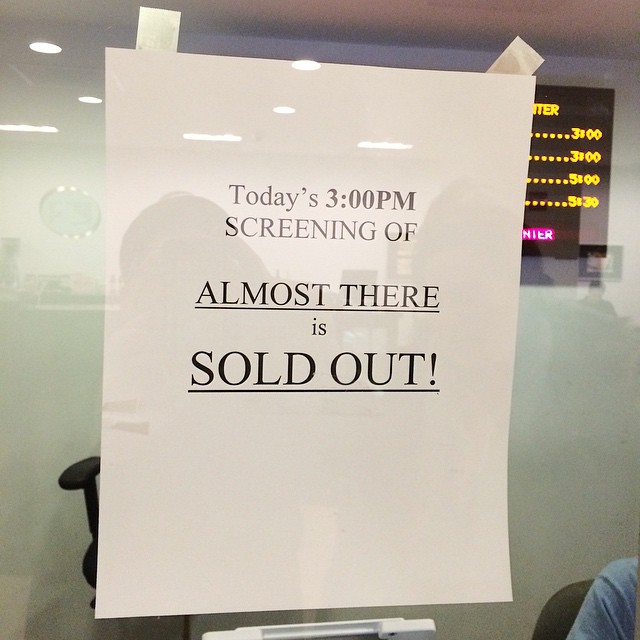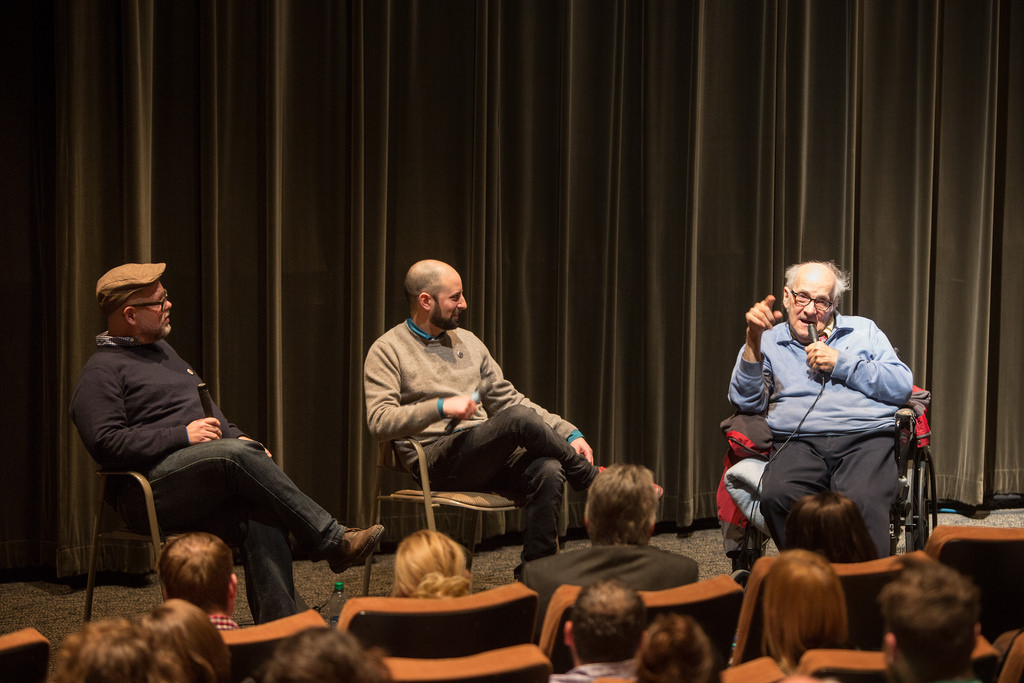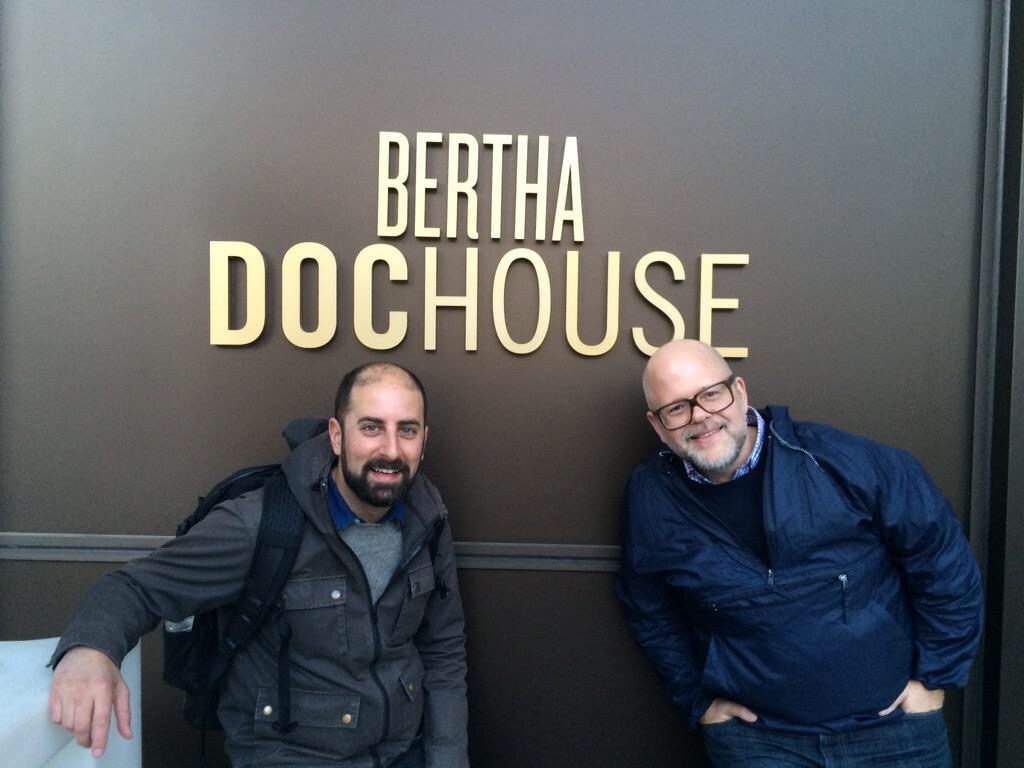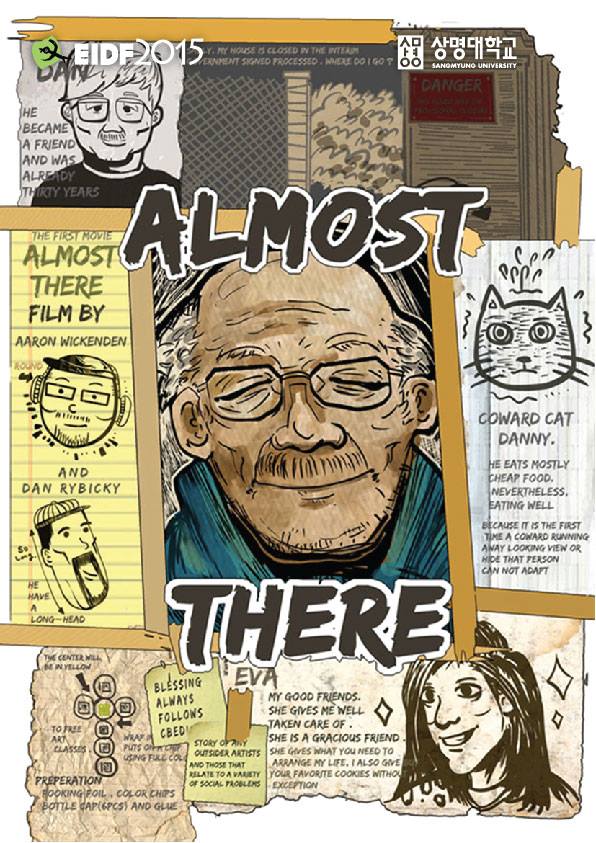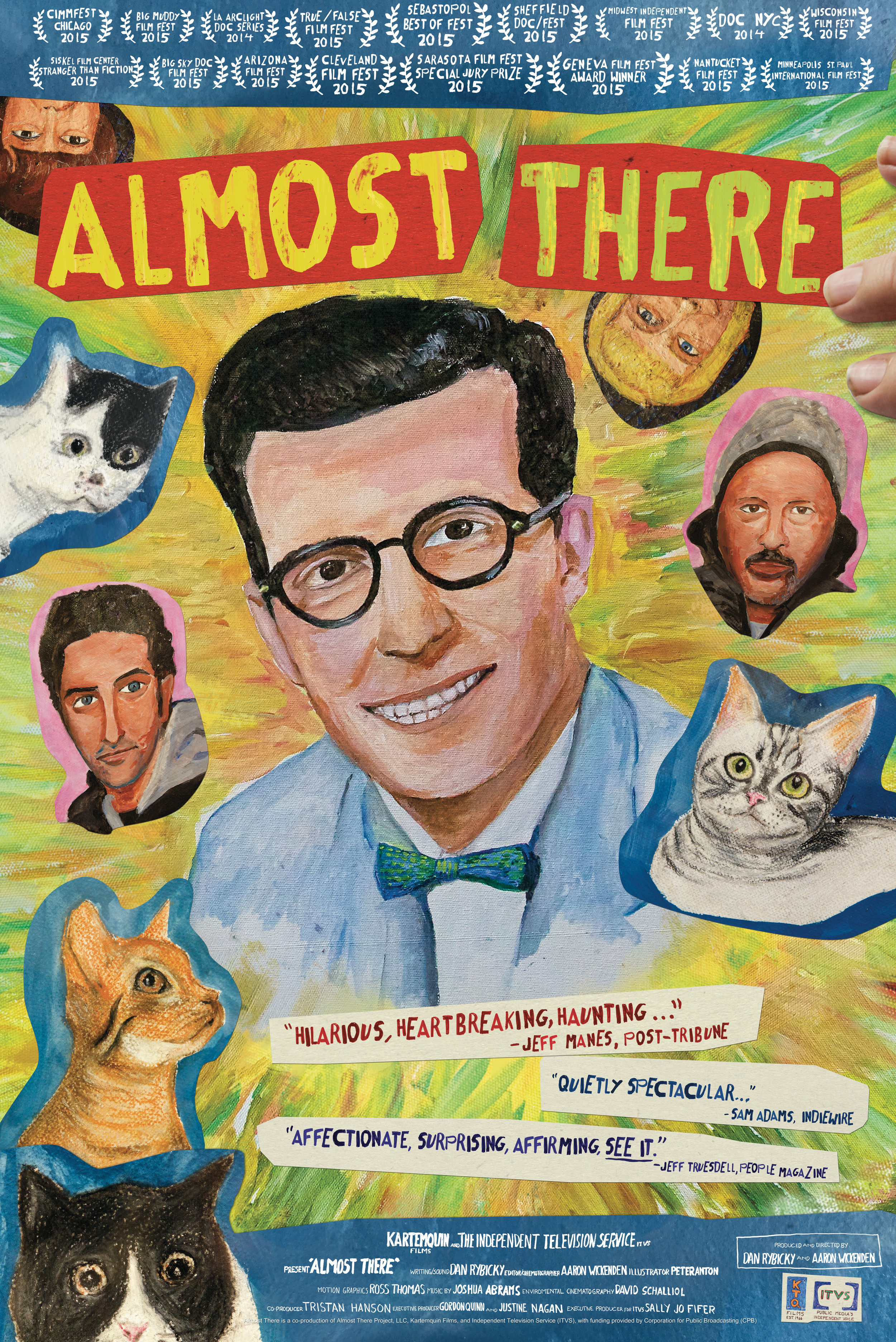 The one and only Albert Maysles
Sharing the film with over 100 students in FSU's Documentary History & Theory Class